Interested in pursuing all or part of this destination marketing program and strategy? Call us at (323) 963-3653 or contact us here to get started.
For the first time, we can automatically target LGBTQ travelers who have already expressed an interest in traveling to YOUR DESTINATION...
now that's a warm lead!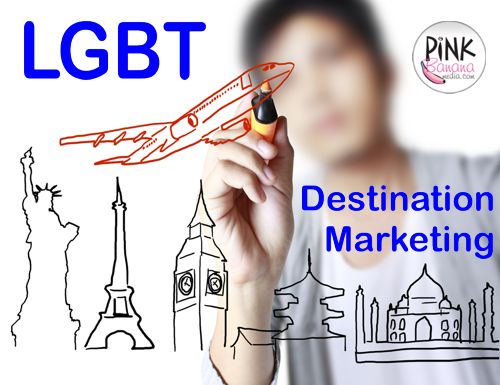 With so many world-class destinations marketing themselves to the LGBTQ traveler today, it's important for some of these destinations to stand out amongst the crowd. For these select few, the following is a 3-pronged approach to doing just that, with a strategy developed over the past few years that taps into the growth of targeted, programmatic ad buying, along with the maturation and overall acceptance of social media in society today. Our strategy consists of:
Targeted, Programmatic Advertising - reach your destination's LGBTQ traveler using some of the latest techniques in the integration of technology with online advertising, on websites, mobile apps and Facebook's newsfeed. Specifically, we can target an LGBTQ traveler who has shown a specific interest in YOUR destination, or perhaps in similar cruises, hotel chains, restaurants or attractions.

Social Media, including LGBTQ Travel Writers, Bloggers, YouTube Content Creators & Influencers - we can monitor any and all conversations, articles and blog postings related to your destination and ensure your organization has its "share of voice" and is part of these online conversations. We can also help you tap into the expanding world of LGBTQ media and individuals who can help destinations spread the word as well.

User-Generated Content (UGC) campaign - Integrating a selected #hashtag, content curation, social media profiles and a website dedicated to bringing it all together
Some Recent Sample Client Work
LGBTQ Influencer Programs We Did During #Pride2018
Take a look at some of the programs we managed with clients in 2018,
incorporating LGBTQ influencer content with targeted Facebook & Twitter advertising.
---
We had 3 LGBTQ influencers on this trip, sponsored and hosted by the folks at Visit Laguna. They captured content and footage throughout the entire weekend, including both Orange County Pride and the Laguna Beach Pride Party held on Sunday, June 25th. This content was brought together into a single blog post, which was then promoted via Facebook & Twitter's hyper-targeted advertising opportunities, reaching a focused LGBTQ audience that has shown a distinct interest in Laguna Beach and Orange County events and activities.
Click for more...
Comcast California and San Francisco Pride
That same weekend, on behalf of Comcast California, we teamed up with the folks at GayClubTV to capture photo & video footage of Comcast California's San Francisco Pride presence, including interviews at their booth with the ever-popular Farrah Moan, as well as their presence in the San Francisco Pride Festival held that Sunday. Some of this content was published live via Facebook & Twitter, as well as compiled and edited into a high quality video on YouTube. The final blog post was then promoted via Facebook & Twitter, targeting the LGBTQ Northern California communities served by Comcast in that area.
Click for more...
More Info
Learn More About our LGBTQ Destination Marketing Programs
LGBTQ Destination Marketing - Featured Blogs, Articles & Videos
LGBTQ Destination Marketing - Expos, Conferences and Conventions
Learn More About Upcoming Events